Rockefeller Asset Management's Climate Solutions Strategy Named a Winner in the Tenth Annual Family Wealth Report Awards
Rockefeller Asset Management, the asset management arm of Rockefeller Capital Management, has been selected as a winner in the 'ESG Investing (Product)' category for its Climate Solutions strategy at the Tenth Annual Family Wealth Report Awards.
The annual Family Wealth Report Awards recognize the most innovative and exceptional firms, teams and individuals serving the family office, family wealth and trusted advisor communities in North America. The awards are judged by an expert panel of more than 40 judges. Finalists are selected based on entrants' responses to qualitative and quantitative performance metrics. With over 500 submissions in nearly 70 categories, the awards recognize firms that are the very best operators in the private client industry.
Commenting on the award, Casey Clark, President of Rockefeller Asset Management and Chief Investment Officer said: "We are especially proud to be recognized by Family Wealth Report for our long history of developing innovative solutions focused on delivering alpha and outcomes for family offices and the communities they serve."
Rolando Morillo, portfolio manager for the Rockefeller Climate Solutions strategy noted "Over eleven years ago, we identified the opportunity to generate alpha and positive outcomes by investing in a portfolio of pure play companies positioned to provide climate adaptation and mitigation solutions that also have clear competitive moats, established business models, strong management teams, and distinct growth catalysts. Receiving this recognition from Family Wealth Report strengthens our belief in the advantages of this approach for a wide range of investors."
Winners and highly commended companies were announced on 4 May 2023 at the Gala Ceremony at the Mandarin Oriental Hotel in Manhattan, New York.
Investing involves risk, including risk of loss. Past performance is no guarantee of future results. ESG investing refers to an investment approach that incorporates ESG criteria into the investment process. This approach is subjective by nature, and there is no guarantee that an ESG investment approach will be successful or that it will reflect the beliefs or ideals of any one particular investor. ESG market data is limited and much of the data is unstructured and reported in varying increments and timetables. While we endeavor to obtain and analyze relevant ESG market data, there is no guarantee that we will be successful in these efforts. ESG investing can also limit the investment opportunities available to a portfolio, such as the exclusion of certain securities or issuers for nonfinancial reasons and, therefore, the portfolio may perform differently than or underperform other similar portfolios that do not apply an ESG criteria to their investment approach.
Rockefeller Capital Management is the marketing name for Rockefeller Capital Management L.P. and its affiliates. Investment advisory, asset management and fiduciary activities are performed by the following affiliates of Rockefeller Capital Management: Rockefeller & Co. LLC, Rockefeller Trust Company, N.A. and The Rockefeller Trust Company (Delaware), as the case may be. Rockefeller Asset Management is a division of Rockefeller & Co. LLC and the "Firm" for purposes of the Global Investment Performance Standards ("GIPS®"). Rockefeller Asset Management has been independently verified for the period January 1, 2006 through December 31, 2021. Effective January 1, 2018, the Firm was redefined to include the management of fixed income strategies for periods dating back to January 1, 2012. A complete list and description of the firm's composites and/or a presentation that adheres to the GIPS standards is available upon request. RCMID-1428079438-3197.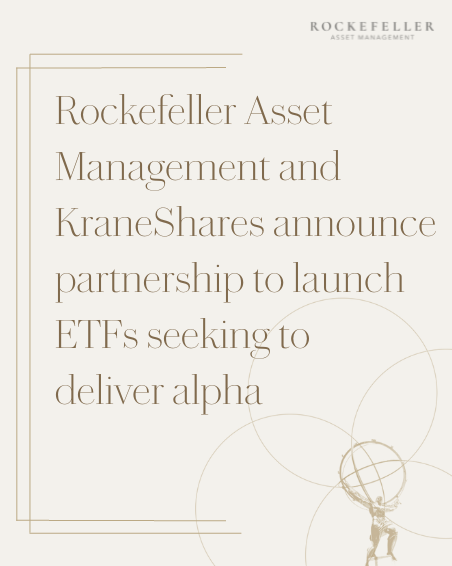 Rockefeller Asset Management and KraneShares Announce Partnership to Launch ETFs Seeking to Deliver Alpha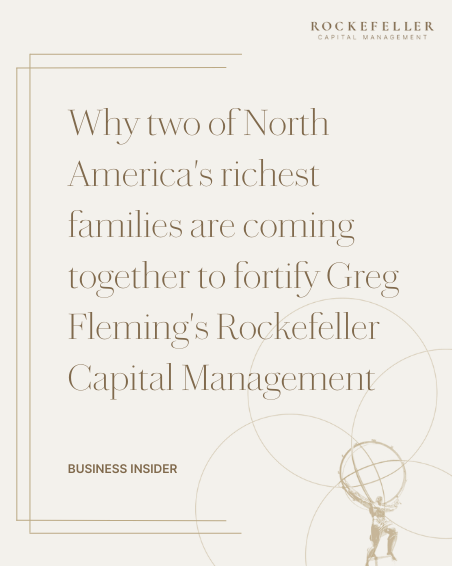 Why two of North America's richest families are coming together to fortify Greg Fleming's Rockefeller Capital Management